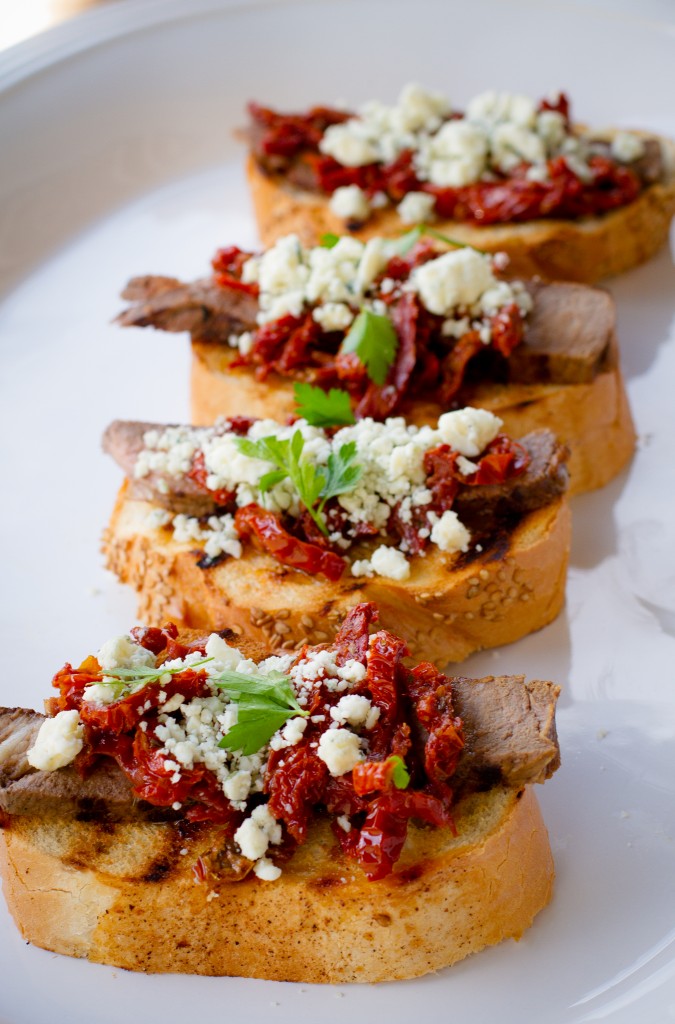 Serves: 6-8
A perfect appetizer for grilling out this summer – these Steak & Cheese Crostini are easy to make and delicious. Try them out at your next summer get together!
Ingredients
Baguette
Blue cheese crumbles
Olive oil
Jar of diced sun dried tomatoes packed in oil
One boneless sirloin steak
Directions
Marinate the steak in Marsala wine – enough to cover the steak – for at least an hour. (The longer the better)
Grill or pan fry the steak to desired tenderness, then slice into small thin pieces and set aside.
Cut the baguette into pieces roughly one inch thick.
Brush olive oil on both sides of the bread and grill it on both sides. (You can also toast it in the oven or pan)
Remove the bread and arrange on a large plate or tray.
Top the bread with a piece of two of steak, and add a spoonful of the sun dried tomatoes. Top with blue cheese crumbles and garnish with parsley.
If you want cheese to be slightly melted, heat in the oven at 250 degrees until desired.